NOVEMBER 2020 – From coast to coast, community pharmacies are steadily submitting more claims for billable services that are funding by provincial healthcare budgets. Influenza vaccinations and prescription adaptations/renewals continue to lead the way, with double-digit increases in claims. Provincially, Ontario appears to have turned the corner on MedsCheck medication reviews and Saskatchewan has hit a higher gear in the provision of assessments for minor ailments.
The Canadian Foundation for Pharmacy pulls these trends together from claims data collected for its annual provincial services chart. The charts shown here highlight trends over five years or more, nationally and for selected provinces (outside of flu vaccinations, data for Manitoba and the Atlantic provinces not shown due to lack of public funding or funding is limited to beneficiaries of the public plan). Unless otherwise stated, the year ending date is March 31.
Influenza vaccinations
Community pharmacists administered almost 3.7 million flu shots during the 2019/2020 flu season, an increase of 14% over the previous season (3.2 million). The biggest gains came in Alberta (21%), Saskatchewan (21%), New Brunswick (19%) and P.E.I. (19%).
Prescription adaptions
Prescription adaptations, which include renewals, climbed by 14% to reach 2.1 million for the year ending 2019/2020, compared to a 20% gain and 1.9 million the previous year. The gains were pretty consistent across the provinces.
British Columbia
Claims for influenza vaccinations increased 12% to reach 796,000. Standard Medication Reviews held steady at 196,100 in 2019/2020, compared to 194,800 the previous year. Prescription adaptations/renewals came in at 288,800, a 12% increase.
Alberta
In the province with the widest scope of practice and generally the highest fees, pharmacists continue to conduct more billable services year after year. Claims for influenza vaccinations grew by 21%, resulting in 879,100 vaccinations compared to 724,600 during the previous flu season. Prescription adaptations/renewals moved ahead 17%; more significantly, the number of adaptations surpassed 1 million, more than all of the other provinces combined (Quebec comes next, at 344,000).
More than half of pharmacists in Alberta (56%) have additional prescribing authority (APA), and these pharmacists submitted 444,700 claims for assessments to initiate or manage drug therapy, a 9% increase over the previous year.
Claims for comprehensive annual care plans (CACPs), billed at $100 per plan, increased by 12% to reach 287,100, compared to 256,500 the previous year. CACP follow-ups did not keep pace, with a modest 3% increase to just over 1.2 million claims. This translates into an average of 4.3 follow-ups per annual CACP, down slightly from 4.6 in 2018/2019.
Saskatchewan
Influenza vaccinations jumped by 21% in Saskatchewan, for a total of 190,600 in 2019/2020 compared to 157,300 during the previous flu season. Prescription adaptations/renewals, which include claims for initial-access prescribing under Collaborative Practice Agreements as well as prescribing for medication reconciliations, increased by 7% to reach 334,400.
Saskatchewan is one of three provinces (with Alberta and Quebec) where pharmacists can bill government for assessments and prescribing for minor ailments. In 2018/2019, Saskatchewan's program expanded from 16 to 25 eligible conditions and claims soared by 67%. The most recent data for 2019/2020 shows a sizeable gain of 39%, for a total of 38,800 claims.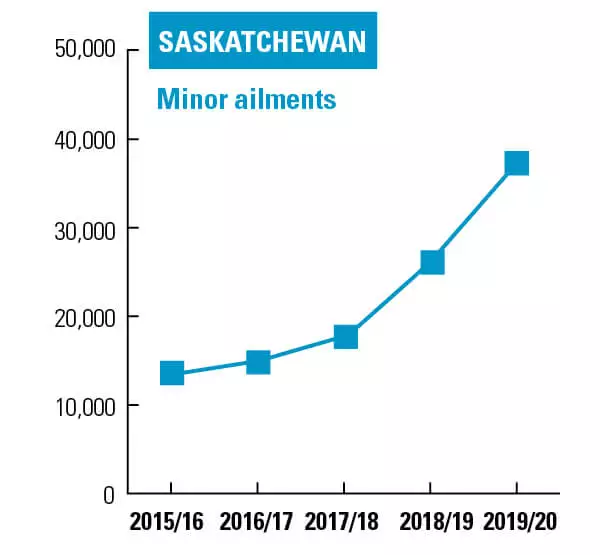 Ontario
Influenza vaccinations by pharmacists in Canada's largest province climbed by 10% for a total of almost 1.4 million claims.
The trend for MedsCheck Annual medication reviews may have turned around. After three years of significant declines, prompted by new documentation requirements in 2016, claims grew by 10% in 2019/2020 to reach 442,900. While this is still well below the peak of 779,900 reviews in 2014/2015, the double-digit increase this past year could signal the start of an upward trend.
Claims for Pharmaceutical Opinions may also be on an upswing, increasing by 18% (to 337,600) compared to a 7% decline (to 331,600) during the previous year.
Quebec
Like Alberta, Quebec has a relatively comprehensive fee schedule. While claims data for influenza vaccinations does not exist because pharmacists have not been able to administer vaccinations until this season, results for most other services continue to be positive.
Prescription adaptations/renewals climbed 17% to reach 344,000. Assessments for 21 minor ailments grew by 13%, for a total of 364,000. However, assessments to prescribe to manage ongoing therapy decreased by 4% to 235,000.
The current flu season marks the first that pharmacists in Quebec are able to administer vaccinations.